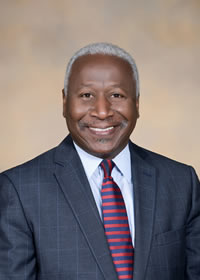 South Carolina State University's 12th President, Mr. James E. Clark is a native of Quincy, Florida.
Along with his passion for education, Clark has a passion for building and flying aircraft.  He is an active member of the Experimental Aircraft Association (EAA) Board of Directors, and has performed as an Air Show Performer. As an engineer and a pilot, he brings the intricacy of "attention to detail" and the critical aspect of its effect on success.
Clark holds a Master of Science Degree in Management (Marketing) from the Massachusetts Institute of Technology Sloan School of Management (M.I.T.); a Bachelor of Science Degree in Electrical Engineering and Computer Science from M.I.T.; and further studies in Global Leadership and Senior Management Development programs at the University of Michigan and Indiana University.