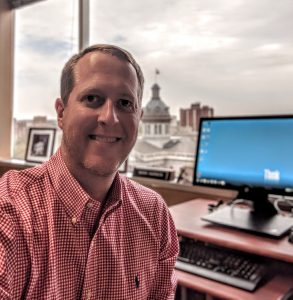 Mark Harmon, Executive Director of the SC Petroleum Council, will discuss how the oil industry will benefit financially by drilling on the coast of South Carolina.  Harmon is a native of Gaffney, SC and a 2001 graduate of Clemson University, BS in Ceramic & Materials Engineering.
Prior to working in the oil business, Harmon worked in Charlotte, NC as a technical sales engineer, designing and building water treatment systems.
In 2005, He moved to Columbia to pursue an opportunity in politics and public affairs, serving under the South Carolina Senate Majority Leader.
In 2011, Harmon was named Executive Director of the SC Senate Republican Caucus, and in 2015, he accepted the role of Vice President of Government Affairs & Public Policy for
the SC Chamber of Commerce. He became head of the South Carolina
Petroleum Council in January of 2018.
Just last year, Mark and his wife, Elizabeth, welcomed their first child, Evie, into
the family. Along with their Jack Russell Terrier, George, they reside in Columbia,
and are members of Trinity Episcopal Cathedral.