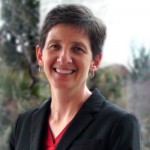 Robin Waites, Executive Director of the Historic Columbia Foundation, will talk to the Club about "Reconstructing an Historic Site" as interpreted at the Woodrow Wilson Family Home.
Robin is a life-long resident of Columbia and is well equipped to work with the various constituents and issues that are part of preservation and education in our capital city.
A product of Columbia's Richland School District One, Robin attended Middlebury College in Middlebury, Vermont where she received a bachelor of arts with a double major in Art History and Russian.  She received a Master of Arts in Art History from the University of SC in 1996 and immediately began work at the South Carolina State Museum.  She served in a variety of capacities including the chief curator of art, which was her position when she left the State Museum to work with Historic Columbia as the director of Marketing and Development.
Robin is active in the community, serving on the board of the South Caroliniana Library and a member of the Columbia Rotary Club.  She is a 2004 graduate of Leadership Columbia and a 2007 recipient of the State Newspapers' "20 Under 40," which recognizes rising stars in the community. (Courtesy R. Waites)
The meeting will be held at the Convention Center, Friday, 4/25/2014 at 1 p.m.