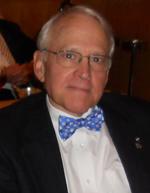 Buddy is a 20 year member of the Rotary Club of Five Points and has twice been recognized as The Charles Foster Rotarian of the Year first in 2006 and again in 2009. He was introduced to Rotary as non-Rotarian member of a Group Study Exchange to Italy with LE Spradlin.
Buddy is a graduate of The United States Naval Academy, served as a Naval Aviator in Vietnam, worked as a stockbroker with the same firm here in Columbia for 31 years and in 2005 decided to retire to spend more time working with NAMI, The National Alliance on Mental Illness, where he has performed many official and unofficial duties being recognized by the SC Department of Mental Health as Volunteer of the Year and by NAMI National at the 2011 National Convention as the Richard T. Greer National Advocate of the Year.
Upon retiring in 2005 Buddy visited the "Backpacker" store in Columbia and was mesmerized by the equipment and decided to acquire some gear and give backpacking a try.
His first hike was for a week and approximately 70 miles on the Palmetto Trail from Poinsett State Park to Lakes Marion and Moultrie. With no intention to do so, his travels have taken him to all seven continents since his retirement.
Buddy's presentation centers on his three summers 2013, 2014, 2015 hiking the 2189.2 miles Georgia to Maine Appalachian Trail. The message he hopes to share is that the equipment and preparation can add zest and open opportunities on your next trip to the Tennessee Mountains, our great Western USA, Alaska, Paris, or anywhere — Who knows what opportunity the future holds.