Garry Powers recently visited Israel and will tell us about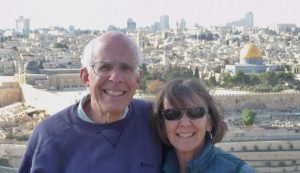 Current Political and Economic Conditions in Israel and the West Bank.
In mid-January, Garry and Peggy Powers returned from a National Geographic expedition to Israel and the West Bank. Although they visited sites of historical significance to both the Hebrew and Arab cultures during the last 3,000 years, Garry's presentation will focus on the current political and economic conditions in Israel and the West Bank.
Garry currently serves as the Chair of both the Midlands Technical College (MTC) Commission and MTC's Enterprise Campus Authority. He also serves on the board of the South Carolina Association of Technical and Community College Commissioners and is the South Carolina State Director for the national American Association of Community Colleges.
Garry worked in the economic development field for 26 years, including service at the State Development Board, now the South Carolina Department of Commerce, and private-sector and economic development consulting firms.
Garry served as President of the Rotary Club of Five Points during the 2004-2005 Rotary year.  He and Peggy have two adult children and have lived in Columbia for 38 years.