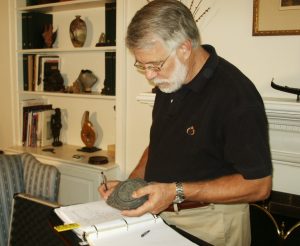 James Brannock is a professional appraiser. He neither buys or sells the items that he appraises. He subscribes to the Code of Ethics for the American Society of Appraisers and performs work consistent with the Uniform Standards of Professional Appraisal Practice (USPAP). He received a bachelor's degree from Wofford College and has successfully completed appraisal courses at The George Washington University (in conjunction with the American Society of Appraisers). He continually is updating studies and certifications related to connoisseurship.   Prior to his appraisal business, he served as an Army officer and then had 28 years' experience in executive positions with business and trade organizations. He is also the recipient of the Order of the Palmetto award from the Governor of South Carolina.
He is a member of the SC Federation of Museums; SC Silver Society; Historic Columbia Foundation; Columbia Woodworkers' Club; Society of Period Furniture Makers; Friends of Old Salem; Winterthur; Columbia Museum of Art and a "business partner" with the Friends of the Richland County Public Library. He has volunteered for the conservation lab at the South Carolina State Museum for seven years.
For clients, he prepares a formal letter of agreement; it names the value to be concluded (for example: fair market value for divorce and estate purposes is very different from replacement value for insurance scheduling) and the intended use of the report.
His appraisal practice, established in 2003, has covered a wide range of properties: general household contents, high-end antiques, silver, art, guns, American Indian/African and other tribal art/artifacts, cars/trucks/motorcycles (stock and custom), boats, tractors/farm equipment, trade tools and equipment and commercial furniture, fixtures and equipment.   He provides professional appraisal services for individuals, insurance companies, banks, lawyers and their clients, universities and museums.
On Friday, Mr. Brannock will be speaking to the Rotary Club of Five Points about the appraisal process.